MISSION & STORY
THERE IS NOTHING EASY ABOUT B2B TECHNOLOGY MARKETING.
Confusion and complexity abound. Obfuscation and jargon are the norm. We exist to change that—to help you tell your story to those who need to hear it, clearly and with minimal fuss.
We don't simply recommend. We put things into action. We don't just run campaigns. We make sure they take you to where you want to be. We don't simply churn data. We help you see what matters most and why. At GetIT we live by just one credo—Make It Matter.
WE ARE PART OF BBN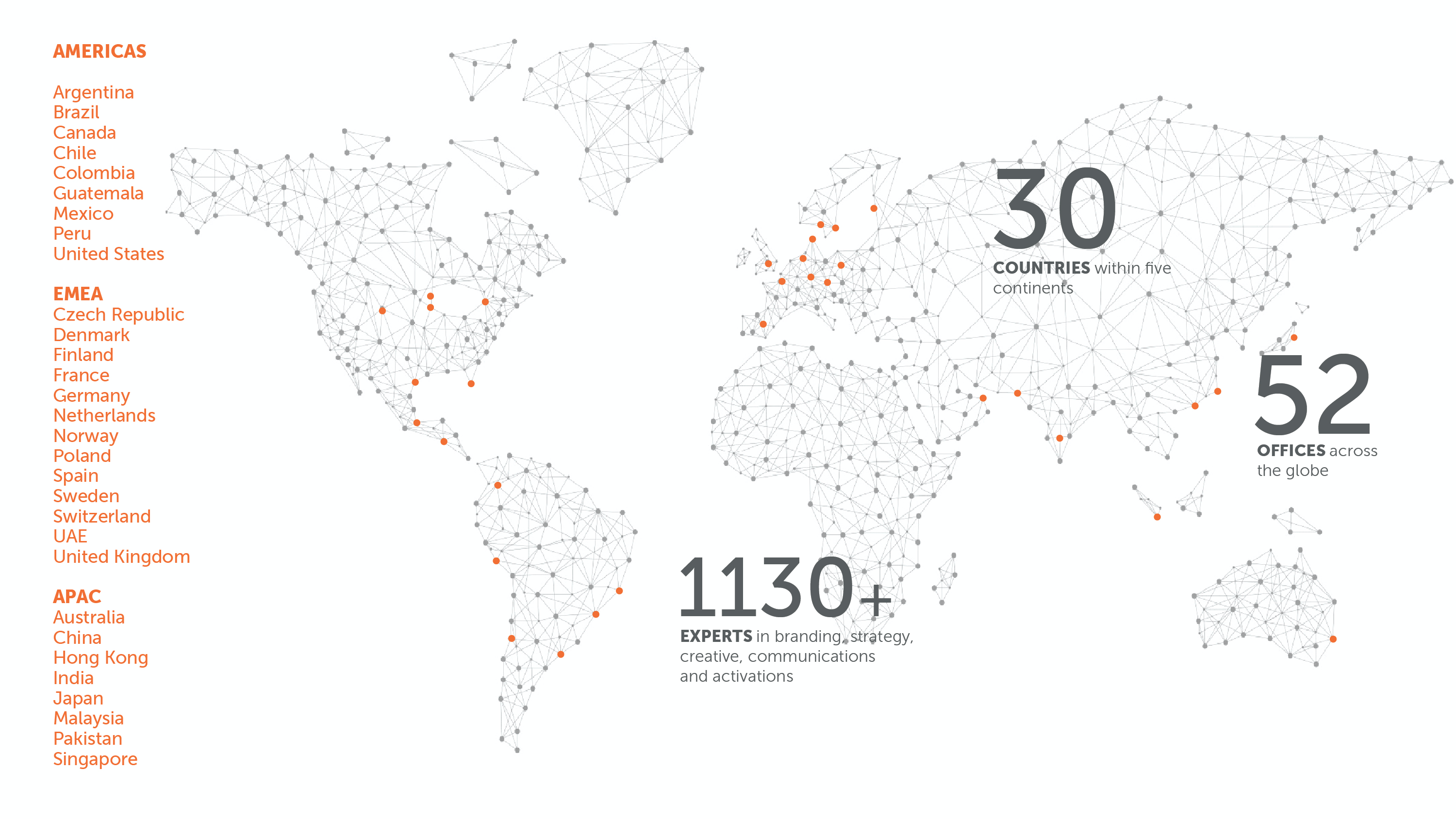 We are a proud member of BBN—the world's B2B marketing agency and the #1 International B2B Marcomms Agency of 2019. It is a single source of specialist B2B marketing skills, and a global team with common processes. Together, we connect businesses and their customers through meaningful communications.
At BBN, we've got over 1,130 B2B specialists ready to execute big ideas across 30 countries. Our unique structure, shared processes and wealth of specialist knowledge, means our international campaigns are executed seamlessly throughout the world.
Methodology
BBN Navigator - The World's Only, Truly Integrated Marketing Toolset
Like most other industries, the B2B marketing space is rife with a wide array of methodologies and principles. The result is often a confusing mess for customers simply looking for results. We recognised that, and poured our efforts into creating a collection of world-class, best practice B2B marketing methodologies, processes and tools, which we call the BBN Navigator.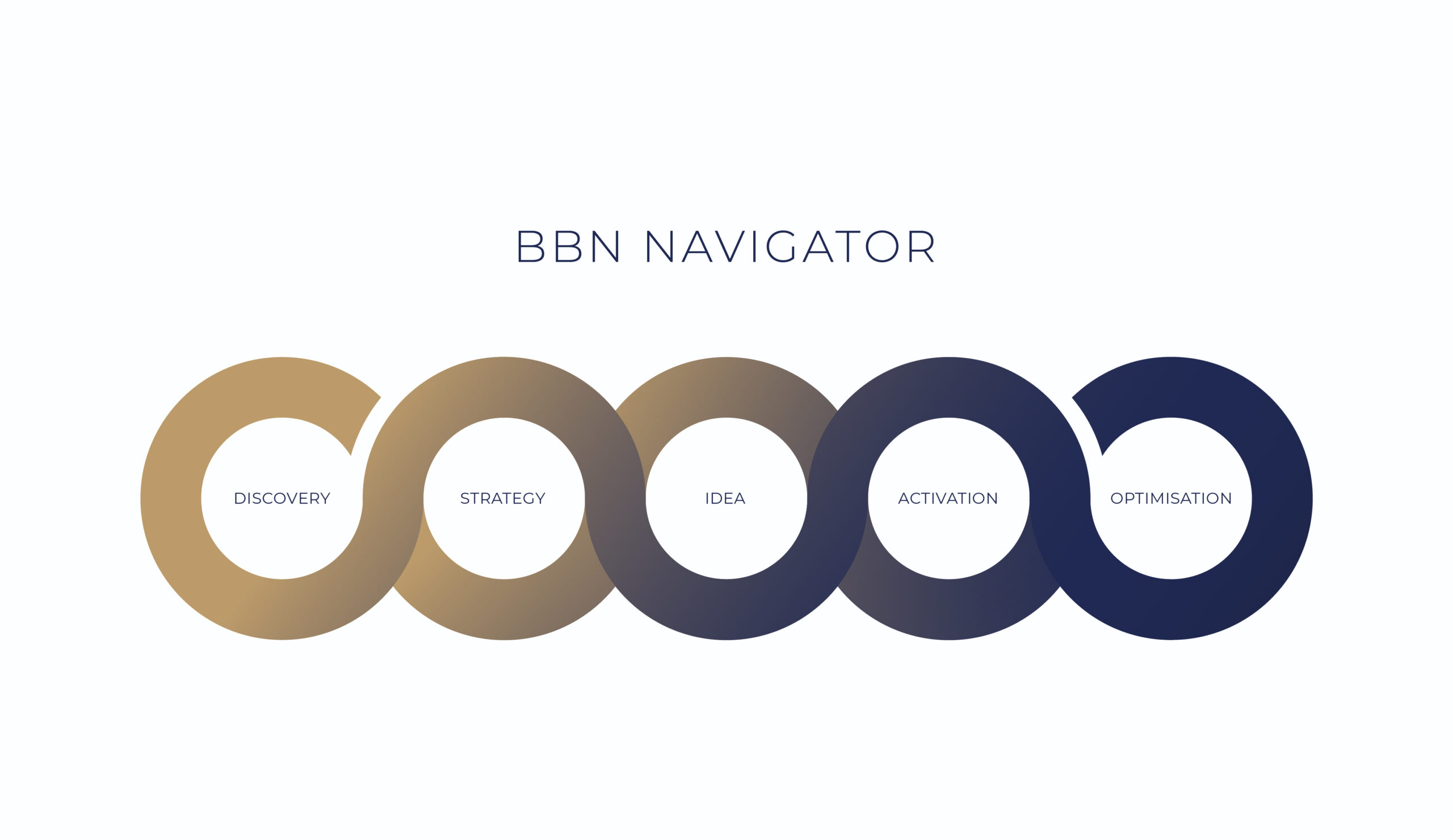 The binding principle behind the BBN Navigator, is that it has to guide marketers through the challenges of B2B marketing, from brand and contact strategy through to campaign delivery.
As agencies, we are also enabled with a tried, tested and definitive approach to B2B marketing that is highly effective in both local and international markets.
C-Map
A road map for effective communications planning and activation
C-MAP is a communication planning and activation model that helps to set strategy, activation and measurement. It is designed to be flexible - with tools than can complement each other, but can also remain independent. C-MAP supports multiple digital and non-digital channels and works with technology brands across several Martech categories.
C-MAP gives you a convenient method for communication planning by organising the model and available tools into different stages such as Discovery, Strategy, Activation, Measurement and Optimization. This is done by gaining detailed input from our clients about their business and marketing needs, prioritising audience groups, providing comprehensive, strategically sound communications touch points and identifying KPIs and goals.
BRAND ASSET MANAGEMENT MODEL
Matching needs with strategic solutions
The comprehensive BAM model is applied to meet specific, recognised needs. It is designed with flexibility and adaptability to support existing brands - be those companies, products or services. Essentially, it can help you to align with the fundamental questions about your organisation's brand identity: Where you are and want to be? Who the audience are and what do they need? What role should each offering play? How do we align and guide?
By employing respective modules with appropriate tools, you will be able to deliver strategic outcomes for your brand. You can use it to discover internal and external key insights, position future identity that you will own over time, enable a holistic approach to create a portfolio strategy, reinforce branding from the inside out, and personalize messages to target and meet your audiences' needs.
OUR PARTNERS
We create strategic and innovative marketing campaigns for some of the world's biggest technology companies and Asia Pacific's leading telecom operators.
Our Team
The GetIT team comprises dedicated, and talented specialists from across the region. By leveraging technology, we operate seamlessly as a single, cohesive unit—to solve your toughest marketing challenges. Together we bring an eclectic mix of creativity, strategy, and innovation to bring your most ambitious campaigns to life.
Anol Bhattacharya Chief Executive Officer
Anol has over 20 years of experience in consulting hi-tech and telco clients in the field of B2B marketing strategy.
He is a regular columnist in various print and online newspapers, such as Business Times, Straits Times, Marketing Interactive, Asia One, MIS Asia, and CIO Asia, and is the editor-in-chief of our B2B Marketing blog.
Anol has given keynote addresses, and been a panelist, at BMA (Chicago), Canalys, SES (Hong Kong and Singapore), Click Asia Summit (Mumbai), AdTech (Singapore), SiTF Workshops, etc.
Asuthosh Nair Managing Partner
Asuthosh's all-encompassing experience ranges from projects to account management, B2B marketing strategy and consulting, business development and client relationships. His sense of storytelling, coupled with a background in engineering, enables him to design marketing solutions and convey a wide range of information across a broad audience spectrum.
Jaspreet Sidhu Executive Director, Operations
Our Director of Operations, Jaspreet manages our Finance and other operations related departments and ensures professionalism extends to the administrative side of our projects as well. She is also actively involved with special projects related to GetIT's strategic growth and development.
Joshua Johari Director, Production
As Director of Production, Josh prides in being on the top of his game. He not only takes a big picture view but also loves to get involved in every aspect of production from brainstorming, coding, 3D animation, media planning, reporting and more. He is also our media production specialist and enjoys experimenting with new and innovative approaches to animation and video.
Sudhir Argula Country Manager, India
Sudhir's experience in the media industry stretches for over 20 years. He has an excellent knowledge of the technology media market space. Sudhir has led teams and helped craft creative, integrated and strategic programs to support clients across various marketing campaigns. These include advertising, content marketing, social media engagement, demand generation, and bespoke marketing - translating all of this into tangible business value.
Intelligently connecting a message with its intended target is what he does best.
Iriani Kamaluddin Country Manager, Malaysia
Iriani is a marketing veteran with 16 years of marketing experience in the Telecommunications, Big Data Analytics, E-Commerce and Publishing industries. Having held local, global and regional positions in Ericsson, SAS and Maxis, she specialises in data-driven marketing and her campaigns have been nominated for a Marketing Excellence Award by Marketing+ Advertising magazine.
Kennosuke Saito Country Manager, Japan
Kennosuke runs GetIT's Japan office. He comes with several years of rich experience in account management, having worked with several global agencies. He has a penchant for managing large technology clients like IBM, SAP, Dell, Microsoft, Yokogawa, and HPE. In his spare time, Ken dons the hat of a Rugby coach at a local Rugby school, where he also plays referee in U12 matches.
Jayan Narayanan Creative Director
As a strategic, multidisciplinary, hybrid creative, Jayan crossed "the line" several times between traditional and cutting-edge interactive platforms and strongly believes there should be no "line".
Jayan has been working with large media and technology companies for over 20 years, making innovative design solutions across print, web, mobile, video and conference platforms. His expertise focused on design communications, UX strategies and working around branding forms but a slice of his vast skill set.
He also loves experimenting with new cocktail flavors.
Jane Lew Account Manager
Jane believes that creativity is the key to unlock all good things. She uses this philosophy to ensure that our clients love working with us. She has previously worked with several media publications, production houses and digital partners, and brings more than a decade of valuable experience in her role as key accounts manager.
Nadiah Jamaludin Business Development Manager
Nadiah has a winning personality that shines through in more ways than one. She's naturally well-liked by her colleagues and clients. But it is her far-sighted vision—developed over almost a decade in sales—that helped win strategic partnerships and deals that drive short term sales efforts, and long-term growth opportunities. After her wins, it's not unusual to find Nadiah rewarding herself in Singapore's high-end shopping district, or at a beach in Bali (her second home).
Anil Khaira Digital Strategist
To Anil, there is truth hidden in numbers. Just like how scientists explain the world using numbers, Anil finds the marketing answers we need with Google Sheets. He uses his affinity with numbers to discover patterns that can be exploited to maximise the efficacy of GetIT's marketing automation, data management and media spend. But of course, unlike football odds, Anil knows there are some things that can't be explained by numbers, like his love for Europe.
Piyush Keshari Media & Project Manager
Piyush is a business enthusiast who loves solving business problems by combining his marketing and technology knowledge. Prior to joining GetIT, he worked at several ad agencies, and also started one of his own. He brings his rich experience in handling clients, and is tuned-in to the needs of the business. He loves sports, the goings-on in the stock market, and spending time with his family.
Zila Azizan Project Manager
Zila brings close to a decade of experience in creative and media strategic planning in both traditional and digital advertising. She has worked with clients across industries: from banking, education, FMCGs, to real estate and telco. She enjoys travelling around the world, outdoor activities, and café hopping.
Tomohiko Ohmura Project Manager
Tomohiko has managed accounts for several global ad agencies across industries such as IT, banking, pharma, auto, fashion and consumer electronics. He loves music, watching baseball, riding his motorbike, cycling, and jogging.
Sunil Shah Team Leader, Content
Sunil has been a technology journalist and editor for over a decade. He prides himself on his ability to tell a story clearly and concisely. This is particularly apparent in the content he produces, which contains an expert blend of storytelling and product marketing. Sunil is constantly looking for the perfect styles and medium to deliver the client's message.
TM Arun Kumar Team Leader, Content
Arun has been a technology journalist for over 20 years and during the time has led editorial teams at various leading media houses in India. He has covered the technology industry in India since the time 80386 was cutting edge, MS DOS was the predominant desktop OS, and Internet access was still a few years away. He brings a deep understanding of both technology and business and is fascinated by how technology is disrupting the world of business across industries. He is passionate about the business of technology and its impact on various industries and the overall economy.
Sadhana Subramanian Sr. Content Editor
Sadhana has been living and breathing technology for over a decade. She has been an editor and writer for one of the world's biggest tech media publishing houses for close to a decade. She has a penchant for seeking stories hidden in everything she reads, watches, and experiences. She believes storytelling is an art and the best stories are those that are compelling enough to influence the masses and bring about positive change.
Anoop PC Associate Art Director
Anoop's probably not the smoothest talker in our team, but he definitely has his way with Graphic Design. He has specialized in animation and illustration. With more than a decade of experience in the industry, he has honed his skills and today he's a wizard in visualizing communication strategy. But it's not all work for Anoop, he also enjoys the small things in life, as small as Hot Wheels.
Doreen Lam Associate Art Director
Doreen started her career as a systems engineer. However, she decided that creating meaningful designs is her calling in life. She bravely took the leap into the design world, and now contributes to the art team by combining her deep technical knowledge with her design skills.
Shigil Narayanan Sr. Graphic Designer
Shigil Narayanan combines a Bachelor of Fine Arts, a passion for the works of Vincent Van Gogh and Frida Kahlo, and heavy influences from Kerala's traditional mural paintings, to create unique art for our clients. He has a background in publishing and interactive graphics, and is almost constantly working on pencil sketches, his favourite medium.
Teng Keat Thong Sr. Graphic Designer
Keat Thong, aka KT, rarely waits for things to happen. Instead, she uses her skills at creation to bring change—both personally, and to our clients through the work she does. When she's not busy providing our clients with game-changing visuals, KT unwinds by focusing on perfecting her crafting skills (digital and physical) so that she can better visualise her wellspring of ideas, and bring them to life.
Finoy Francis Team Leader, Web & Interactive Media
Finoy doesn't consider developing web and mobile applications as work simply because he loves doing what he does. He believes that there is no end to learning, having started his career spanning more than a decade, in video editing and graphic design and moving on to web development.
Jithin PV Web Developer
Jithin has over eight years of rich experience in Web and UI development. He has worked with leading technology companies and has helped shape their Web development strategies. Calm, composed and quiet, Jithin brings a sense of serenity to the hyper and enthusiastic India team.
Manu TM Graphic Designer
Manu, our resident ninja, is a designer as well as a developer. He helps build design with functionality and beauty. He loves thinking creatively and developing new design concepts, graphics and layouts. When he is not working, he enjoys watching movies, driving and discovering new technology.
Anju Mahendra Accounts Cum Admin Manager
Anju strongly believes that 'accounting' is ACT-COUNT-THINK and that's how her passion for mundane stuff like debit and credit became something more than just numbers. At GetIT, Anju is not just an accounts whiz she also pretty much runs the admin wheels of the India office. She believes that there is no limit to learning. When she isn't at work, she is roaming around the globe.